CTI Jobs 2022 College Teaching Interns
CTI Jobs 2022 College Teaching Interns announced the latest Govt Teachers in all districts. Vacancy's detail and their eligibility criteria are given below.
CTI Jobs 2022 College Teaching Interns
These College Teaching Interns CTIs Career Opportunities are available in all Government Colleges operating under the Department of Higher Education, Punjab. Required officials can visit the nearest Government College for complete information on vacancies.
Details of CTI Jobs 2022
Merit Marks Distribution & Merit Criteria for CTIs
Note for Interview:- Interview marks will be awarded on a satisfactory presentation by the candidate can the subject.
Eligibility Criteria:
The Department of Higher Education (HED) is a department of the Government of Punjab, Pakistan. The Department of Higher Education is responsible for education, learning, and related services for the students serving in the public and private higher education institutions of Punjab as well as for the teaching and non-teaching staff.
Both men and women from any district of Punjab province can apply for these College Teaching Interns CTIs Jobs 2022. The College Teaching Interns will be recruited on a contract basis for a period of 5 months.
Men/women with an M.A/MSc with at least 2nd Division, BS (4 Years), or Equivalent Qualifications are eligible for appointment to these CTIs. Selected internees will be paid Rs. 45000/- per month.
Applicants can check the vacancies available in their nearest college. The list of completed posts will be posted on the notice board of the concerned college.
The required applicants can send their applications and supporting documents to the concerned college. Candidates should provide complete information and documents as per the requirements of the college.
Candidates selected on merit will be interviewed, in their respective colleges. The final merit list will be posted.
The Procedure of Submission:
Both men and women can apply. Eligibility criteria, eligibility requirements, and other information will be posted check below. According to the Punjab government's recruitment policy, 3% quota will be kept for persons with disabilities and 5% for minorities.
CTI Jobs 2022 College Teaching Interns Advertisement: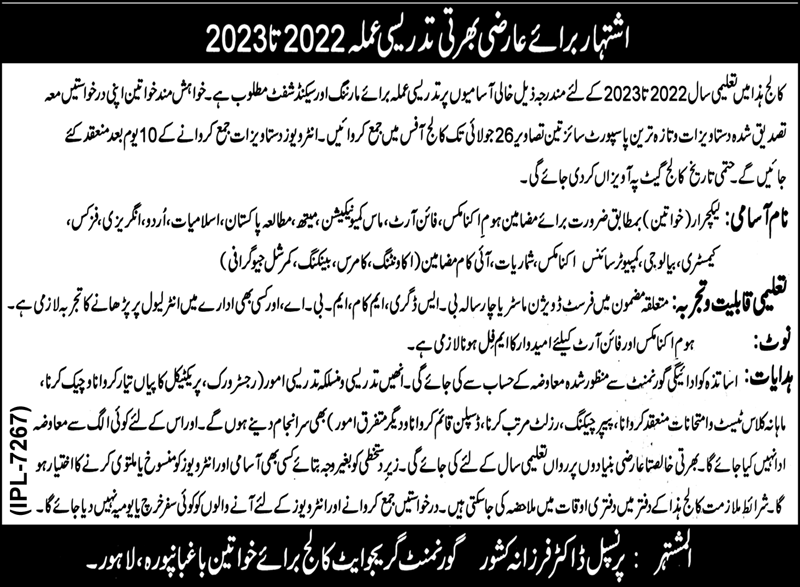 Share it with your friends: